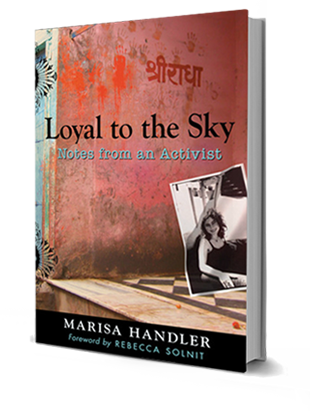 ---
"In principle, it seems wise for 30-year-olds to wait until they have experienced life more fully before publishing a memoir. But if that principle took hold, readers would have been deprived of "Loyal to the Sky," a memoir by 30-year-old Marisa Handler. That would have been a shame… Her wisdom transcends her youthfulness; she writes with grace and insight…Handler vowed to devote herself to world peace, and she has never wavered." The San Francisco Chronicle
"Marisa Handler's luminous tale of coming to activism issues an invitation to read your own life as an awakening." From the foreword by Rebecca Solnit
Winner of a Nautilus gold award for world-changing books, Loyal to the Sky takes us on a fascinating journey—from Marisa Handler's childhood home in apartheid South Africa to Israel, India, Nepal, Ecuador, Peru, and all over the United States—to offer a rare and revealing glimpse inside the global justice movement. An activist and journalist, Handler examines the movement's strengths and contradictions, demystifies its confrontational tactics, and explains why it has become such a powerful force for change. Through her gripping coming-of-age story—complete with vivid details of the many characters and events that have influenced her—she shows how, in a globalized society, we each have within us the power to change the world.
Handler's family emigrated from Cape Town to Southern California at the age of twelve. Her gradual realization that injustice existed even in this more open, democratic society spurred a lifelong commitment to activism that would take her around the world and back again. In Loyal to the Sky, she shares intimate details of her life as a global justice activist to offer a revealing perspective on what drives the movement.
Tracing her own evolution as an activist, her story crisscrosses the globe, exploring current sociopolitical issues from apartheid and racism to the Israeli-Palestinian conflict, U.S. wars, and corporate globalization. Along the way, Handler paints compelling portraits of the people she's encountered, shares gritty details of the sometimes-harrowing events that have changed and shaped her, and describes how she came to advocate an activism grounded in principles of interconnection and nonviolence as the best means for building the kind of world we wish to see.
"Marisa Handler takes a brutally honest look at herself, the activist community, and the world. She writes with wit and beauty, preaches with passion and love. Loyal to the Sky is an affirmation that mortal humans, with all our foibles, can be powerful agents for change."
–Medea Benjamin, Cofounder, Global Exchange and CODEPINK
"Handler captures in this book the most hopeful energies of her generation and will excite anyone who hopes for a post-Bush world of peace and justice. Insightful and charming, spiritually rich and emotionally honest, Handler's writing shows that tikkun olam, the healing of the world, is not some outdated fantasy but an ever-present possibility."
–Rabbi Michael Lerner, Editor, Tikkun, and author of The Left Hand of God: Taking Back our Country from the Religious Right
"Handler brings a unique wit, intelligence, honesty, and outsider's skepticism to an insiders view of the global justice movement. Hers is a welcome contribution to a history in the making — providing an eloquent glimpse into who we are and what we may yet become."
— Antonia Juhasz, activist, policy-analyst and author of The Bush Agenda, The Tyranny of Oil, and Black Tide
"A window deep into the world where our only sustainable future is being created. It's a passionate, vital, and beautifully written story. My highest recommendation."
–Michael Nagler, author of The Search for a Nonviolent Future and founder, Peace and Conflict Studies Program, University of California, Berkeley
"With sumptuous, eye-opening prose, Handler takes us on a brave globe-trotting journey into the human heart of activist politics. It's a gripping ride–joyous, poignant, honest, and smart. This is a hopeful, wise book."
–Christopher D. Cook, author of Diet for a Dead Planet: Big Business and the Coming Food Crisis
"Marisa Handler has achieved that rarest of things: a memoir that is both a lyrical spiritual quest and a story of gritty direct action in the streets. What good is love and compassion when confronting a sweating cop in full riot gear? It is plenty of good, and in this fiercely tender memoir Handler shows us why. When I finished this book I sighed and closed my eyes in gratitude, as if I'd finally found clear cool water in the desert."
– Michael Chorost, author of Rebuilt: How Becoming Part Computer Made Me More Human and World Wide Mind