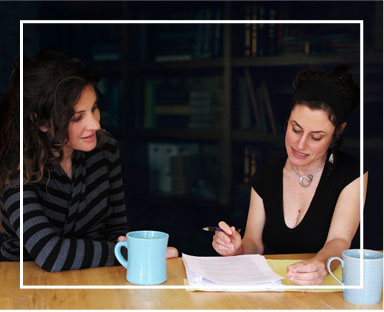 writing coaching

---
The purpose of art, said James Baldwin, is to lay bare the questions that have been hidden by the answers. What questions have you forgotten? What are you ready to ask, to venture, to speak? Inside you are wild places strung with honeysuckle and blackberry, pools you haven't yet fathomed the depths of. Inside you are words to be threaded together, and stories that only you can tell.
If you're reading this—perhaps with anticipation or a familiar chorus of unhelpful voices—it may be that you are ready to unearth your questions. That certain words are ready to be born.
I will work to help your voice take authentic form and your project take inspired shape. In moving through our blocks, there is a profound source of creative flow we can access. And our creativity is not separate from our lives; when it flows, so do we. We excavate old parts we thought were lost; we discover new parts we'd only glimpsed before. When we are deeply engaged in creative work, it transforms us as we write.
Picking up the Pen
With kindness, pragmatism, and a sense of humor, I will guide you through this exhilarating process. My clients have signed with reputable agents and publishing houses, earned major advances on book deals, overcome multi-year creative blocks, won writing competitions, been accepted into MFA programs, and been published in The New York Times, The Atlantic, and the San Francisco Chronicle, among others.
I work in one to two hour sessions in person in Berkeley or over Skype or telephone. Sessions are $110 per hour. Generally we meet weekly, but I also work on a by-session basis for short-term projects or objectives. My fee for reading and editing work is $85 per hour. I offer an initial fifteen minute telephone consultation free of charge.
Who I Work With
Adults:on a wide range of goals including moving through blocks; all aspects of writing craft and process; building a portfolio and getting published (nonfiction and fiction); book proposals and signing with agents and publishing houses; establishing a sustainable and joyful writing practice; and bringing long-held dreams to life. Yay!
Teenagers:on developing confidence in their writing; writing "outside the box"—that is, creatively and authentically instead of in rote response; writing their way into a deeper understanding of themselves and this world; and often on college admissions essays, which I view as an early opportunity to engage in some rich reflection on past experiences and future possibilities.
Children aged 10 and over: on fully exploring the wonders of a young imagination; developing keen powers of observation, a strong sense of empathy ,and penetrating thinking skills; and last but certainly not least, encouraging the experience of language as one big playground. Which is precisely what it is.
"Marisa has helped me to take my writing to a new level. She is incisive, creative,and knows how to help you get to the heart of what you are trying to say (before you do!). She has been the best coach and friend a writer could have. Marisa, thank you for bringing my writing out of me and into The New York Times !"
–Jessica Nutik Zitter, MD
"I am most fortunate to have been referred to Marisa by another author/writing consultant. Marisa is everything I could possibly want in a writing coach. In addition to being a brilliantly insightful teacher, she also happens to be kind,sensitive, encouraging, and most generously committed to her clients. She has a remarkable knack for drawing out long forgotten memories that might otherwise have remained buried and voiceless. In her quiet, unassuming way, I think Marisa may be one of the great teachers of my life."
–Tony Elman
"After taking a creative writing class with Marisa at Stanford, I knew I had to work with her one on one. Although I've been CEO of a global training company for years and have created a myriad of courses as well as video and audio content, I simply could not find my writing voice until I hired Marisa as my coach. Marisa has an amazing ability to cut through the noise and help writers find their authenticity.
After a few sessions with Marisa, I was able to harness all of my creative energy and finish the book proposal in a matter of weeks. I just signed with a prestigious agent, and I'm on my way to fulfilling a longstanding dream. Yes, I too am now a writer! Thank you, Marisa. You are a blessing!"
–Shari Levitin
"Marisa is such a wonderful and supportive mentor for any writer looking for direction. Her insights are always powerful and accurate, yet so gently delivered that she almost has you believing you came up with them yourself! Thanks to Marisa I started writing again after almost a decade – she has inspired me to carry on and given me the great gift of a new beginning. I just feel so grateful to have found her."
–Lara Williams
"Working with Marisa one-on-one was an exciting, clarifying, and empowering experience.The wonderful suggestions she made for strengthening my work were always preceded by a plethora of caring and well-thought-out observations of the good things already evident there. Her ideas also felt like they never limited my choices, but rather served to shine a light on different possible avenues I could take in my revisions and future projects. She pointed out what was well written without sparing me the rigor of a professional-grade critique of how my underlying goals might be served even better. We clarified my goals and intentions together, in an atmosphere of trust and good will.
I was struck by how Marisa flows from one point to the next during discussions–her mind moves in ways that are consistently smooth, smart, and profoundly respectful of the work. The way she approached my work (and myself as its author) made richly evident the skills she developed during her years as an MFA student at the prestigious University of Iowa Writing Workshop.
Marisa helped me to tackle technically challenging structural and thematic dimensions of my work as well as managing to allow me simply to hear and to embrace my writing voice more fully. She offered suggestions of craft books to read that would further support my writing process. Without giving me inflated expectations, she inspired me to pursue an MFA of my own, which I begin this year!
Moving forward in my writing life, I feel I have been blessed, empowered,and expertly guided toward greater growth, fulfillment, and success."
–Jennifer Russ
"Working with Marisa is more of a spiritual journey than, say, a journey to learn the mechanics of writing. It is about finding your soul, your spirit, your wonderfulness, your true self through writing. Working with Marisa allowed me to find my own voice without judgment."
–Karen Barnes
"Working with Marisa was the best thing that happened to my daughter. Marisa has an amazing ability to connect with my daughter and work with her interests giving free flow to her imagination through interesting writing exercises.Throughout this journey, Marisa encouraged my daughter to be in touch with her inner voice, her emotions and to vividly animate her own life – a tall order for a child of 10. But this approach paid off and my daughter really enjoyed her sessions with Marisa. Marisa taught her to write using her senses and to create lifelike characters. She also taught her the art of writing dialogues, showing versus telling and advanced narrative devices such as metaphor, foreshadowing and symbolism.
Marisa is an absolutely wonderful writing teacher. She taught my daughter much more than writing. Marisa taught my daughter to be reflective, thoughtful,imaginative and empathetic – all the qualities of an honest writer. I can't recommend her highly enough!"
–Savita Prakash
"At the end of my son's freshman year at high school his writing was mechanical and driven by rules. Because so much communication these days takes place through writing, with emails and texts, the ability to write clearly has become even more important than ever. I found Marisa online. Her testimonials spoke of a teacher able to develop a writer's inner voice. My son did not want writing lessons, but within a few months of working with Marisa, he was making insights through writing that surprised us. By a half a year, he was writing with confidence. Now, over a year later, writing lessons is part of his weekly routine, a place to write what he sees in the world. His one-on-one instruction with Marisa has been transformative. There is no better gift to give a teenager."
–Margaret
"Marisa has provided me with the balance I needed at a time when my writing was stagnant. She is able to provide guidance without compromising my personal style, adding value with her expertise and insight. Doubt and insecurity frequently creep into my writing practice, and through focused dialogue regarding content and voice, Marisa is able to reinstate confidence and self-esteem as a writer. I have grown more in a few months working with her one on one than in years of writing and receiving feedback from others."
–Cecilia Hayes
"Marisa is an incredibly wise, compassionate and insightful teacher. She brings both brilliant creativity and profound clarity to the writing table. She is a gifted writer, and I would recommend her expertise and coaching to any individual wishing to take his or her writing to a deeper level. Working with Marisa is not only profoundly rewarding, it is fun!"
–Rebecca Hyke
"Marisa is a truly gifted writer and teacher and I cannot recommend her highly enough. I benefited immensely from working with her."
–Naomi Schiesel
"With something as personal as writing (and writing for the soul for that matter),it is important to have a space and teacher that supports your growth as an artist. I couldn't have asked for a better experience with Marisa."
–Alex Molloy
"I found Marisa when I was craving structure and reintegrating creative expression into my daily life. I found both. Inspired by Marisa's dedication and encouragement, I once again began to write and meditate daily and reconnected to a creative flow that I was missing."
–Charna Cassell